Plasturgy supporting
construction, energy and sport industries
Delta Plasturgy manufactures various injected or moulded/overmoulded parts for the protection and safety sector. For over 40 years, we have specialised in moulding of hard hats through thermoplastic injection.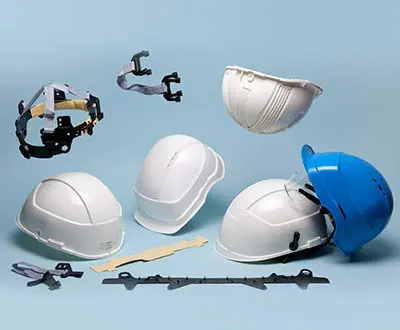 YOUR REQUIREMENTS
The protection and safety sector requires compliance with standards linked to Personal Protective Equipment (PPE) and hard hat in terms of finished products. We need to ensure product resistance against shocks, but also to offer a manufacturing process level which allows significant reproducibility, controlled quality and comprehensive traceability. Improving the design of new products is often empirical and must be in collaboration with the design office and the transformer industrialisation department.
PHOTO FROM LEFT : Hard hat in anti-shock ABS and components. PHOTO FROM RIGHT : Hard hat in polyethylene or polyamide or abs.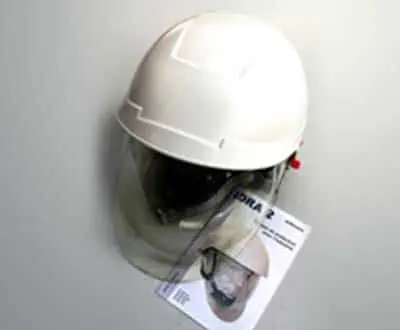 OUR SOLUTIONS
Delta Plasturgy is notably specialised in
thermoplastic injection moulding
of
hard hats in polyethylene, polyamide or shock-resistant ABS
as well as all
plastic components making up the hat, and their assembly.
With this know-how, we have acquired an industrial culture which allows us to better understand technical market requirements which generally have a high level of quality demand and requirements in terms of very high product traceability.
Furthermore, we have developed logistical know-how which allows us to cover the finished product chain up to the final user.
In addition, our design office can suggest the materials best adapted to desired performance, improve the part shapes in collaboration with our clients and create prototypes where necessary.
HEXAFLEX :
BUILDING AND SPORT
With unique properties, this material is designed to prevent vibrations, absorb shock, and provide excellent comfort. In addition, its durability and lightness make it a tool of the future for industry and more particularly for aeronautics, for example for the protection of manking and equipment.
OUR INJECTED, MOULDED OR OVERMOULDED PARTS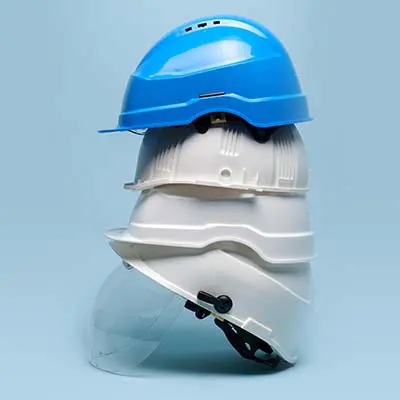 Hard hats in ABS or polyamide
Hard hats in ABS or polyamide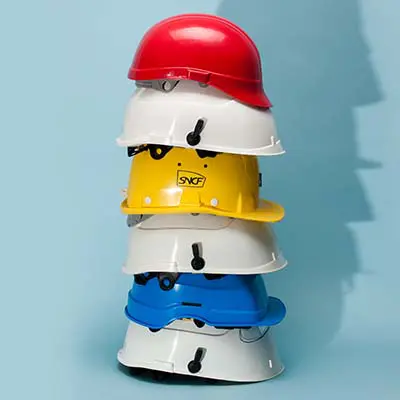 Hard hats
injection molding of thin wall parts, with mechanical resistance properties and external parts. Hard hats in colours specified by client users.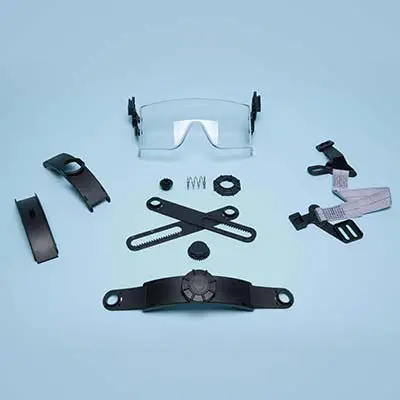 Rack
Rack, goggle clips or hat accessories in PA, PE or POM materials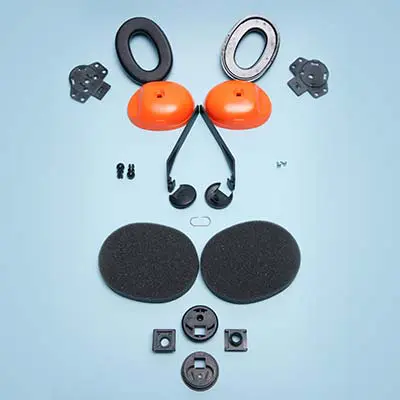 Injected anti-noise components
Reflective mirror on plastic support
POM ball reinforced with fiberglass for syringe
Instruments for scuba diving
Delta Plasturgy creates assemblies and crimping or assemblies and plastic welding of diving instruments.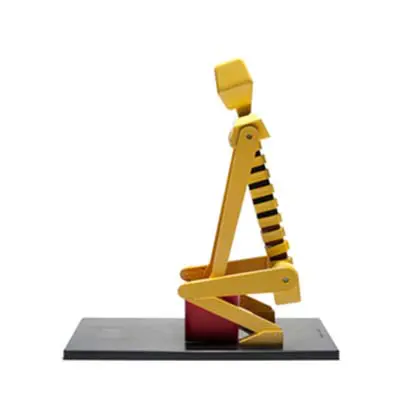 Articulated body
Articulated body in ABS for safety training