The Delta Plasturgy design office supports its clients in the study and creation of injection or compression mould.
SPECIALISED PARTNERS FOR EACH TYPE OF MOULD
Delta Plasturgy has selected specialised partners for each type of mould and moulding technology to create its moulds.
Our design office works in close collaboration with our mould makers to optimise part shapes and reduce mould prices. For very fine tolerances, we also study the possibilities of using post-moulding machining.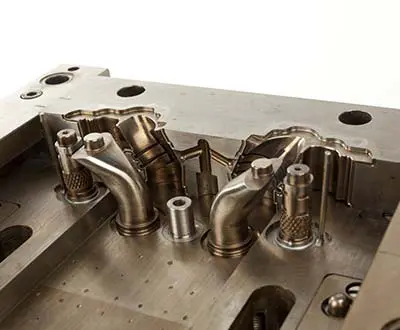 OUR WORK WITH PLASTIC MOLDING
The Delta Plasturgy teams are involved in:
Improving the shape of parts for plastic moulding;
Rheology studies, if needed;
Designing moulds in collaboration with strategic partners.
We also develop specific solutions to improve the cost of moulds, particularly through mini-mould or manual block drawer technology for small series of highly technical overmoulded parts.
3D PRINTING PROTOTYPING
Additive manufacturing technologies now save precious time and costs in the design of your parts. Delta Plasturgy's teams have been working on 3D printing for a long time and master the various processes and materials.
Hexaflex by Delta Plasturgy
Think about shock absorption differently
We have developed a new meta-material capable of absorbing powerful shocks on a small area without deteriorating. This faculty is also found in the reduction of vibrations.
Its name is Hexaflex and it will surprise you.
The applications resulting from these properties are multiple and mainly take up the locations of technical foams while being more flexible, more resistant and more efficient. After numerous tests and awards, Hexaflex has already conquered the sectors of protective equipment, the world of sport, the medical world and the construction industry.