Our mastery of several technologies allows us to make wider choices of raw materials (thermoplastics, thermosets, elastomers)
A specialist in transforming highly technical plastic materials through injection or compression moulding processes, Delta Plasturgy fully understands materials belonging to the thermoplastic, thermosetting plastic and elastomer thermoplastic families, whether in granular or natural powder form, reinforced or not with mineral fillers or glass or carbon fibre, painted on request.
High-performance plastic materials have a permanent usage temperature over 150°C and a high level of thermo-mechanical properties.
THERMOPLASTICS AND THERMOSETTING PLASTICS:
THERMO-MECHANICAL PERFORMANCES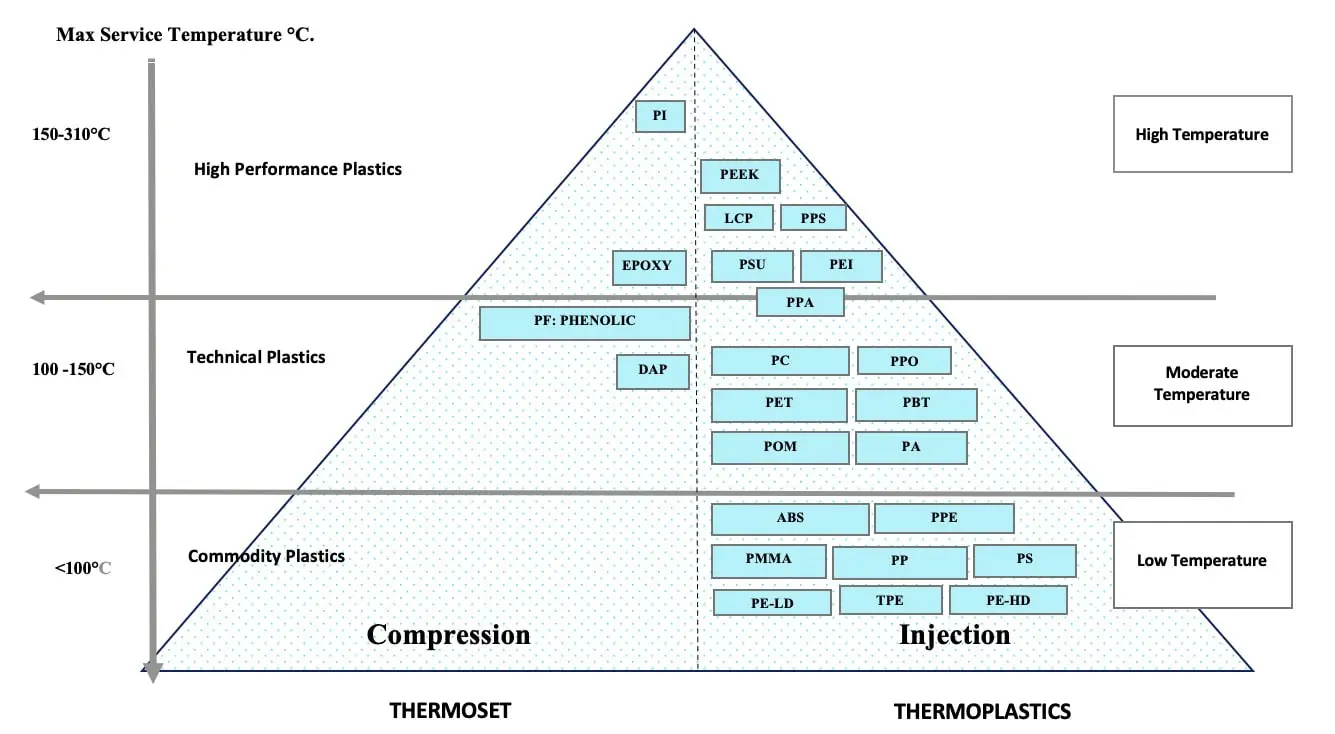 The properties of plastic parts mainly depend on the performance of the constituent raw materials. Delta Plasturgy stresses the importance of selecting the material, which depends on the desired characteristics for the plastic part.
Diagram of thermomechanical performance
There are two major categories:
These are macromolecular materials for which the main characteristic is their reversible solid/liquid transformation ability when heated. Thermoplastic materials are mainly shaped using injection.
Once polymerised by the heat, these materials become irreversibly solid. Thermosetting materials are transformed through a process known as transfer compression or compression.
THERMOPLASTICS AND ELASTOMERS
Delta Plasturgy uses thermoplastics and thermoplastic elastomers.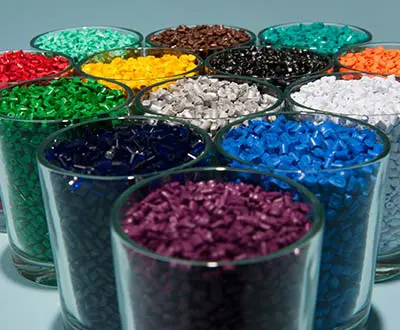 THERMOPLASTICS
Thermoplastics are polymers, linear and more or less branched, non-cross linked, solid at ambient temperature and which, by increasing the temperature, soften and eventually become fluid. The opposite process is also possible. Successive cycles are possible.
THERMOPLASTIC ELASTOMERS (TPE)
Delta Plasturgy uses small-series injection of the main thermoplastic elastomers for medical devices, buttons, seals, stoppers and mainly use the following materials: Santoprene, PP/EPDM, painted TPE.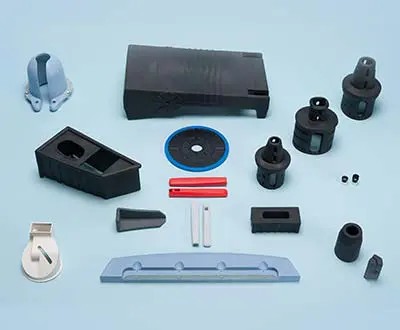 THERMOSETTING PLASTICS
Delta Plasturgy uses and transforms the following thermoplastic raw materials:
Thermoplastic elastomers (TPE)

Acrylics and methacrylics (PMMA)
Polybutadiène (PBT)
Polyphényl Ether (PPE)
Polyethylene Terephtalate (PET)
Liquid crystal polymers (LCP)
Polysulfone (PSU)
Polyarylsulfone (PAS)
Polyacetals (POM)
Polycarbonates (PC)
Polyphényl Sulfide (PPS) as Ryton or Fortron
Polyimides, Polyétherimides (PEI)
Polyphenylenes (PAE)
Polyethersulfone (PES)
Polyetherethercetone (PEEK)
Delta Plasturgy uses thermosetting plastics.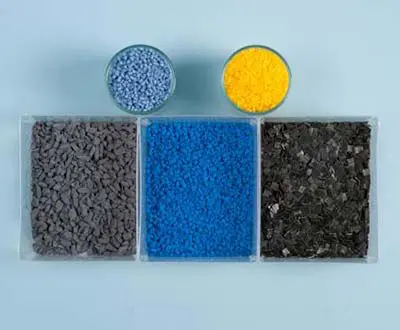 THE PERFORMANCE OF THERMOSETTINGS
Thermosetting materials are used for their properties, unmatched by thermoplastics, such as high temperature resistance or electrical insulation properties.
Thermosets can continuously withstand high temperatures above 200 ° C or even high temperatures for a very short time (above 300 ° C), without changing the mechanical strength.
They have incomparable high voltage or surface current insulation properties compared to thermoplastics. They also have very good flame retardant properties and are hardly flammable.
THERMOSETTING RAW MATERIALS
Thermosets are macromolecules transformed into various objects under the impact of heat, pressure and chemicals. Macromolecules crosslink during cooking. This state is irreversible, and thermosets cannot be modified or reused after the crosslinking phase, unlike thermoplastics.
Thermosets are also qualified as crosslinking resins, because for curing the crosslinking agents are essential, for example hardeners, accelerators or catalysts.
High Temperature Thermoset Compression Molding in Kinel
Polyimide molded coil casing for continuous high temperature performance in aeronautical applications.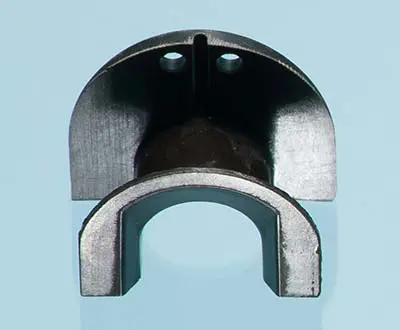 Delta Plasturgy uses and transforms the following thermosetting raw materials:
Aminoplastes
Epoxydes (EP)
Phenolics resins
Please consult us for other materials